Gubitak snage
Jedan od najraširenijih mitova je tvrdnja da automobil koji radi na prirodni plin gubi gotovo 20% svoje snage. Navedena tvrdnja samo je djelomično točna. Snaga je izgubljena u ranim fazama masovne metanizacije prometa – 1970-ih i 90-ih godina.
Tiiekom tog razdoblja ograničena je tvornička proizvodnja vozila na plin, a osnovu voznog parka činila su vozila na plinske cilindre, prenamijenjena vozila; upravljački sustavi motora bili su zasnovani na mehaničkim sustavima; tvornice automobila bile su odgovorne samo za automobile, a tvrtke dobavljači bile su odgovorne za plinsku opremu; nije postojao kvalificirani servisni sustav za plinsku opremu.
U tim su uvjetima male tvrtke, koje su vršile ponovno opremanje u privatnim garažnim boksevima, pokazale "čuda" inženjeringa. Često su prilagođavali plinsku opremu (za propan i za metan) za određeni motor i stroj bez dokumentacije, garancija i rezervnih dijelova.
U takvim uvjetima pogoršanje performansi motora nije se moglo izbjeći. Istodobno, često su stradali ne samo mehanički, već i ekološki indikatori.
With the introduction of electronic control systems and the beginning of mass factory production (original equipment manufacturing) of gas-cylinder vehicles, these problems have passed. Today it is almost impossible to distinguish a petrol or diesel car model from its gas version. The same power, dynamics, carrying capacity and passenger capacity. At the same time, methane-fueled vehicles are favorably distinguished by low noise levels, lower emissions and fuel savings.
Kratka kilometraža po punjenju
Navedeni je nedostatak bio svojstven i strojevima na prirodni plin prije nekoliko desetljeća. To se uglavnom odnosilo na osobna vozila. Bilo je teško postaviti dovoljno cilindara na njih koji bi im omogućili prelaženje velikih kilometraža na metanu. Boca od 50 litara pod pritiskom od 200 atmosfera sadrži od 10 do 12 m3 prirodnog plina. Uz potrošnju motora od 7-10 litara tekućeg goriva na 100 km, konvertirani automobil mogao je prijeći 150-200 km. Na kamione i autobuse moglo se ugraditi više cilindara. No, s obzirom na to da je i potrošnja goriva bila veća nego kod lakih vozila, prijeđena kilometraža po punjenju iznosila je 200 – 300 kilometara.
Suvremeni osobni automobili s SPP bocama integriranim u glavno kućište i potrošnjom goriva od 5-6 l/100 km mogu prijeći do 450 kilometara na metan. Uzimajući u obzir zalihe benzina, koje su dostupne na gotovo svim modelima, ukupna prijeđena kilometraža po jednom punjenju goriva (metan + benzin) može iznositi i od 900 – 1000 kilometara. Kamioni i autobusi opremljeni balonskim spremnicima mogu između dva punjenja prijeći kilometražu od 400 do 1000 km.
UPP kamioni i autobusi mogu prijeći još veće udaljenosti na jednom punjenju. U odnosu na SPP, njihova kilometraža po jednom punjenju je 2,5 puta veća.
Trajanje procesa punjenja
Proces punjenja automobila, autobusa ili kamiona komprimiranim prirodnim plinom, zahvaljujući modernoj opremi za punjenje, traje gotovo jednako kao i punjenje vozila benzinom ili dizelom. Za punjenje automobila komprimiranim prirodnim plinom koriste se sapnice za gorivo tipa NGV1. Za povećanje brzine punjenja teške opreme koriste se sapnice za gorivo NGV2 s povećanom cijevi.
Dakle, potrebno je 10 minuta za punjenje teretnjaka na dizelski pogon. Potrebno je točno isto vrijeme za punjenje komprimiranim ili ukapljenim prirodnim plinom.
Problemi s trajanjem procesa dopunjavanja goriva na SPP stanicama nastaju kada se punjenje spremnika teških vozila obavlja pomoću sapnice za gorivo za putnička vozila.
'Bomba' u automobilu
Ponekad se može čuti da je plinska boca "bomba u automobilu". Činjenica da je metan zapaljiv i eksplozivan plin nije tajna. Rukovanje njime zahtijeva poznavanje njegovih svojstava i kompetenciju. Iako iznimno rijetko, puno rjeđe nego kod vozila na propan ili benzin, dolazi do incidenata s vozilima na prirodni plin.
Prirodni plin nije lako zapaljiv. Da bi se zapalio, potrebno je da njegova koncentracija u zraku bude od 5 do 15%. Osim toga, ima najvišu temperaturu samozapaljenja: 540°C. Usporedba prirodnog plina s propanom, benzinom i dizelskim gorivom za navedene pokazatelje pokazuje da je prirodni plin najsigurniji tip motornog goriva.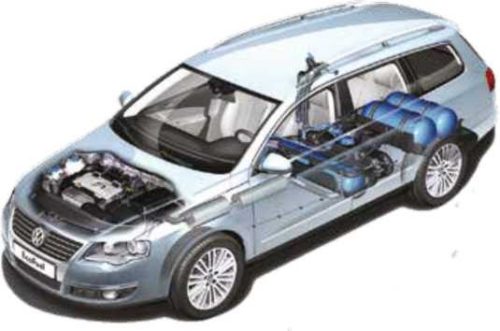 Kao što znate, automobilske SPP boce same po sebi vrlo su izdržljive. Primjerice, na osobnom automobilu cilindri se ugrađuju u statistički najmanje osjetljive dijelove automobila. Prema BMW-u, cilindri integrirani u karoseriju automobila puno su sigurniji od spremnika za benzin ili dizel ili spremnika za propan.
Česti su slučajevi kada su nakon teške nesreće ili požara automobilske boce napunjene plinom ostale neoštećene. Aktivirao se sigurnosni sustav (rasprsnuti disk ventil – pokrenut iznenadnim skokom tlaka i ventil taljivog spoja – aktivirao se kada se temperatura povećala) i prirodni plin je ispušten u atmosferu.